Photo of the Assembly Room in Independence Hall, where the Declaration of Independence was debated and signed in Philadelphia.
Pennsylvania has a wealth of historical shrines, numerous lakes and streams, and vast areas of mountains, forests, and picturesque countryside.
An extensive system of state parks and recreation areas provides facilities for swimming, boating, camping, hiking, and picnicking. The state also administers many historical sites, monuments, and buildings.
Scenic Attractions:
The lakes and woodlands of the Pocono Mountains and the Delaware Water Gap, where the Delaware River has cut a spectacular gorge through the mountains in Monroe County, are probably the state's most widely known sights.
Other popular attractions include the 22 named water falls of Kitchen Creek in Ricket's Glen State Park, west of Wilkes-Barre; the Pine Creek gorge, known as Pennsylvania's Grand Canyon, in Tioga County; the 70 mile shoreline of the Pymatuning Reservoir on the Pennsylvania-Ohio state line; and Conneaut Lake in Crawford County, the state's largest natural lake. Cook Forest in Clarion County contains Pennsylvania's largest stand of virgin timber.
National and State Forests:
The Allegheny National Forest comprises about 516,000 acres, and extends through parts of Warren, McKean, Forest, and Elk counties. State forest land covers more than 2 million acres.
Historic Sites:
Pennsylvania played a central role in the birth of the United States. Many of the state's historical sites commemorate the events and people of the American Revolution (1775-1783). The Declaration of Independence was adopted on July 4, 1776, in the State House in Philadelphia. In this building the Continental Congress met during the American Revolution, and there the Constitutional Convention gathered to frame the Constitution of the United States.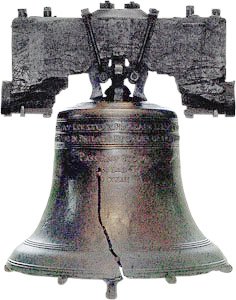 Now known as Independence Hall, it houses a small museum of colonial objects and other objects of historical interest. The building, together with its adjacent mall and nearby pavilion housing the Liberty Bell, is part of the Independence National Historical Park.
Another national historical park is at Valley Forge, northwest of Philadelphia, where George Washington and the Continental Army camped during the winter of 1777 and 1778. Fort Necessity National Battlefield, in Fayette County, is the place where George Washington and his Virginia militia encountered French forces in 1754.
Pennsylvania also was the site of one of the major conflicts of the American Civil War (1861-1865). The Battle of Gettysburg, an attempt by the Confederates to win a major battle on Union soil and which marked the turning point of the Civil War, is commemorated by the Gettysburg National Military Park in southeastern Pennsylvania.
Point State Park in downtown Pittsburgh is the site of historic Fort Duquesne and Fort Pitt. Hopewell Furnace National Historic Site is a restored 19th-century iron-making village located near Pottstown in eastern Pennsylvania. The Daniel Boone Homestead was the frontiersman's boyhood home near Reading.