The rugged White Mountains, the many woodland lakes and scenic splendors, and the cool summers bring many visitors to New Hampshire. The attractions include hunting, camping, hiking, and mountain climbing in the summer and fall; swimming and boating in summer; skiing and snowmobiling in winter; and local theater and music programs.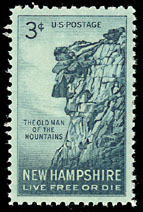 One of the most famous New Hampshire sights is the "Old Man of the Mountain," a striking rock formation resembling a human face, on Profile Mountain. Other scenic features of Franconia Notch include the Flume, a spectacular gorge, and the Basin, a deep glacial pothole.
Also in the White Mountains are the glacial caverns of Lost River, near North Woodstock, and the view from the top of Mount Washington, New England's highest mountain. A cog railway and a toll road allow access to a visitor's center at the summit.
The larger lakes of New Hampshire all have well-developed resorts with excellent boating and water-skiing facilities. Weirs Beach, on Lake Winnipesaukee near Laconia, is one of the better-known inland resorts. Hampton Beach is New Hampshire's most popular seaside resort.
New Hampshire has many major ski areas. Many large ski lifts and gondolas operate during the summer for sightseers and picnickers. These lifts include those at Mount Sunapee State Park; Loon Mountain, near North Woodstock; and the aerial tramway at Cannon Mountain, near Easton.
National Forests:
The White Mountain National Forest covers about about 721,000 acres of northeastern New Hampshire with hardwood forests and the largest alpine area east of the Rocky Mountains and south of Canada. Some of the state's most popular sites are located in the forest, which also contains five national wilderness areas: the Caribou-Speckled, Great Gulf, Presidential Range-Dry River, Pemigewasset, and Sandwich Range. The Appalachian National Scenic Trail, which travels nearly the length of the Eastern United States, traverses the White Mountains.
State Parks:
New Hampshire has 42 state parks. Among them are popular year round sites that include camping, hiking, boating, fishing and other recreational opportunities, such as those at Mount Sunapee, Pillsbury, Hampton Beach, and Sculptured Rocks Natural Area. Bear Brook State Park provides recreation as well as a museum, a nature center and an historic meeting house.
Other Places to Visit:
Throughout New Hampshire the visitor will find well-preserved 18th-century towns, many of which still have white wooden churches, public greens or commons, and early homes. Some of the historic sites in the state include the Franklin Pierce Homestead in Hillsboro, the birthplace of Daniel Webster near Franklin, the Wentworth-Coolidge Mansion near Portsmouth, which was the residence of New Hampshire's royal governor, and the Robert Frost farm at Derry.
Saint-Gaudens National Historic Site preserves the home and studio in Cornish of Augustus Saint-Gaudens, one of the country's noted sculptors. Strawbery Banke, at Portsmouth, is a restored maritime community dating from the 1630s. New Hampshire has 53 covered bridges dating from the 19th century.