Florida is renowned as one of the country's most popular vacation destinations, and almost the entire state is oriented toward the numerous forms of recreation available. Among the most popular are water sports, including swimming, boating, water-skiing, and fishing.
Other diversions offered include hunting, golf, tennis, jai alai, polo, horse racing, dog racing, automobile racing, baseball, and rodeos. In addition, many areas in the state have been set aside by the federal and state governments for recreation and conservation.
The principal national park in the state, Everglades National Park 1,506,539 acres, is a vast wilderness area covering the southern tip of the peninsula. Adjoining the Everglades is Big Cypress National Preserve. Biscayne National Park includes dozens of islands and keys in Biscayne Bay, south of Miami. Canaveral National Seashore is north of Kennedy Space Center. Gulf Islands National Seashore is south of Pensacola.
The oldest existing masonry fort in the United States lies within Castillo de San Marcos National Monument. The national monument is in the historic city of Saint Augustine. South of the city is Fort Matanzas National Monument. On Tampa Bay is De Soto National Memorial, which commemorates the landing in Florida in 1539 of the Spanish explorer Hernando de Soto. Fort Caroline National Memorial, near Jacksonville, lies near the site of the second French settlement in the present United States. Fort Jefferson is located in Dry Tortugas National Park, 65 miles west of Key West. It is the largest all-masonry fortification in the Western world
There are three national forests in Florida, the largest of which is Apalachicola National Forest. Apalachicola lies in the center of the Florida panhandle, in a picturesque region of swamps, lakes, and rivers. Osceola National Forest, the smallest, also lies in the north. Farther south, in the lake district, is Ocala National Forest. It is a vast wilderness area of pines and other trees and springs and lakes. Many national wilderness areas are located in Florida's national forests, including Big Gum Swamp.
Among the six National Wildlife Refuges in Florida is Pelican Island, noted as the country's first such refuge, established in 1903. From this beginning has grown a National Wildlife Refuge System of nearly 500 refuges encompassing about 93 million acres. The waters and wetlands of Pelican Island support a major ecological system that sustain hundreds of species of birds, fish, plants, and mammals.
Florida state forests cover 16.5 million acres. They include Cary, Pine Log, and Blackwater River state forests, all of which lie in northern Florida, and Myakka River State Forest, which is located in the south-central part of the state.
Florida's 110 state parks include facilities for water sports, picnicking, and other recreational activities. John Pennekamp Coral Reef State Park and Myakka River State Park are the largest. The former, near Key Largo, covers 56,011 acres, and is 95 percent underwater. It includes 40 species of living coral and a variety of colorful tropical fish. Among the other state parks are Florida Caverns State Park, near Marianna, Cape Florida State Recreation Area on Key Biscayne, and Sebastian Inlet State Recreation Area, near Melbourne.
Numerous state historic memorials are scattered across Florida. Among the more notable is Constitution Convention State Museum, at Port Saint Joe in western Florida, which stands near the site of Florida's first constitutional convention. Stephen Foster State Folk Cultural Center, on the Suwannee River, has a museum and carillon tower honoring the famous composer.
Marineland of Florida, on the coast between Saint Augustine and Daytona Beach, is the world's first oceanarium. It includes saltwater tanks containing live porpoises, sharks, whales, and other rarely seen forms of marine life. There are similar marine life aquariums at Miami, Islamorada, Titusville, Saint Petersburg Beach, and near Fort Walton Beach. Saint Augustine Alligator Farm and Zoological Park, situated near Saint Augustine, has one of the largest collections of captive alligators in the world.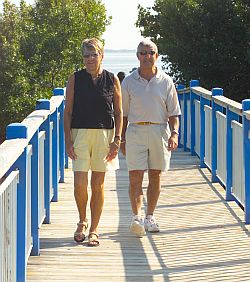 Hialeah Park, in Miami, is one of the country's famous horse-racing tracks. In North Miami Beach is a reassembled 11th-century monastery from Spain. It is a major tourist attraction.
Places of interest noted for their exotic plant and animal collections include Busch Gardens, in Tampa; Caribbean Gardens, near Naples; Parrot Jungle and Gardens, near Miami; and Everglades Wonder Gardens, near Bonita Springs. Recreational centers that have excellent plant life collections include Cape Coral Gardens; Fairchild Tropical Gardens, near Miami; and Cypress Gardens, in Winter Haven. Among the many outstanding natural springs located in Florida are Wakulla Springs, the deepest at 185 feet, near Tallahassee, Silver Springs, and Blue Springs.
The Oldest House, in Saint Augustine, is believed to date from late in the 16th century. The winter home of Thomas A. Edison in Fort Myers is also the site of a laboratory that was used by the inventor. The Mountain Lake Sanctuary, near Lake Wales, contains Bok Tower Gardens.
The National Aeronautics and Space Administration Kennedy Space Center, at Cape Canaveral, is a major tourist attraction. In 1971, Walt Disney World, with its giant amusement park opened just south of Orlando. Disney World has expanded since then, and with other theme parks in the area, including Sea World and Universal Studios, has made the Orlando region a major tourist destination.